My grandfather was a peanut farmer.  Actually, he grew a variety of things on his farm, but I remember the peanuts the best!  I will never forget walking out to the fields with him and watching those ruggedly beautiful hands of his pull peanuts out of the ground. Before that day, I had NO idea how peanuts grew and I was fascinated to watch him pull that clump
right out of the dirt
.  I still remember the shape of his long, rough fingers as I stared down at the peanuts -- dirt clinging to them and their roots.
I guess ever since that day, I've had a thing for peanuts.
I'm a southern girl -- born and raised in the deep Mississippi South -- so it might stand to reason that my favorite thing to do with peanuts is to eat them!  There are lots of ways to eat a good peanut:  raw, roasted, peanut brittle, peanut butter and of course, the all-time best -- BOILED!  Yummy!
With all of that history, when I was given the opportunity to learn more about George Washington Carver --
the original PEANUT man!
-- there was no way I was going to pass it up!  My children and I sat engrossed as we watched the 30-minute DVD about the life and science of
George Washington Carver
.  A hard-working, lover of learning, Mr. Carver was SO MUCH MORE than
just
a Peanut Man -- but that is probably how he is best known.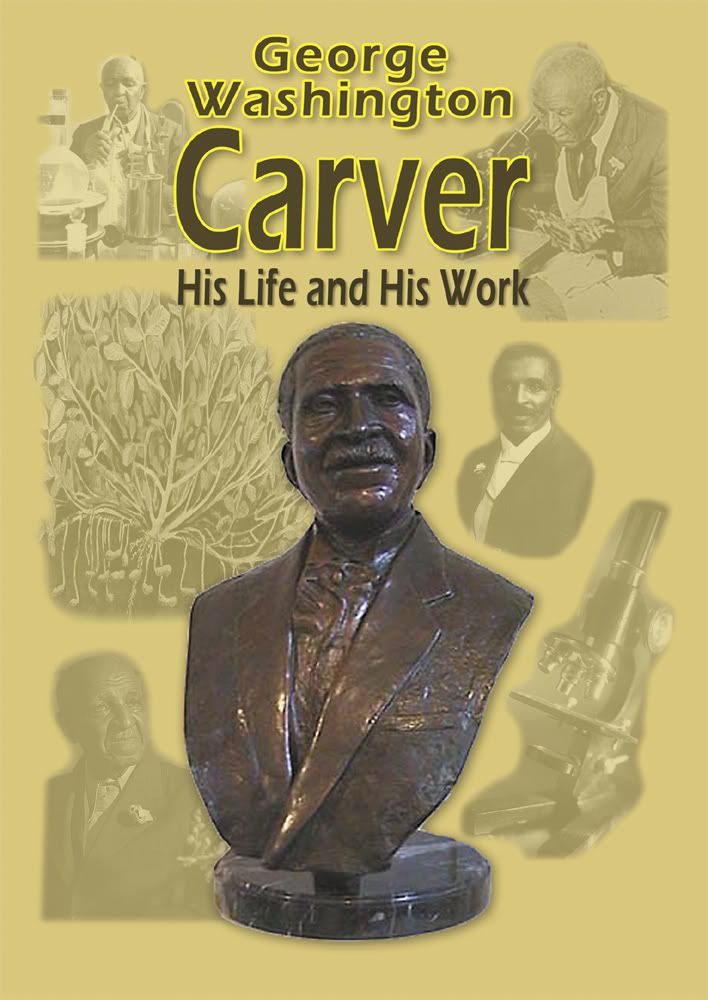 Filmed on location at the George W. Carver Museum at the  Tuskegee Institute, the
Marshall Publishing
educational historical documentary DVD was full of beautiful shots of nature at its very finest.  Because Mr. Carver was a scholar and  a nature enthusiast, he was enthralled by all that GOD had made.  He explored new ways to use all plants
(and found over 300 uses of the peanut and over 100 uses for a sweet potato!)
and was considered the Plant Doctor because of his vast knowledge of how to make plants thrive.  Mr. Carver almost single-handedly changed farming in the South as he personally traveled to farms to help improve farming techniques and soil.
We've studied Mr. Carver before at Long Leaf Academy, but we learned some new things through the DVD.  Did
YOU
know that Mr. Carver didn't use the middle name Washington but preferred to use only his initial?  I would never have guessed that because I've always heard him referred to as George
Washington
Carver.   He also never married because he said no woman should have to put up with his long hours and messy ways.  Instead, he was married to GOD's creation and his work -- dedicated to help students reach their full potential.
The video was quite interesting and the scenery was beautiful.  I was reminded of the videos that my teachers used to show us on Fridays when I was in grade school --
of course, we watched on filmstrip and the quality left a bit to be desired!
George Washington Carver:  His Life and Work
is a well-done movie that helped bring to life someone we've only studied in our history books.  All of my children enjoyed watching it and getting to know Mr. Carver in a real-life way.
Regularly priced $24.95, you can purchase  
George Washington Carver:  His Life and Work
by 
Marshall Publishing
for $19.95 right now.   EVEN BETTER, you can use the Discount Code TOSC1 and receive 15% off --that makes it $16.95.   There are also quite a few other DVDs to choose from on the websites as well as books and music --
(we'd love to view

The History of the Oregon Trail

and

The Pony Express)
.  Several of my crewmates had the opportunity to watch the Firetruck videos.  You'll want to check them out as well!

~~I was given the opportunity to use and review
George Washington Carver:  His Life and Work
by
Marshall Publishing
as a member of the 
TOS Homeschool Crew
.  The opinions stated are mine and mine alone.  I was not paid to share my thoughts and feelings with you.  I encourage you to check out the
Crew Review
and see what other members of the TOS Homeschool Crew thought of
George Washington Carver:  His Life and Work
HERE
.~~
Pin It Now!