I was fortunate to be able to use and review Illuminations by Bright Ideas Press earlier this school year and we were super-impressed.  
(You can see how we used it and what we thought of it

HERE

.)
Now we've been introduced to the 
crème de la crème
of geography through their new map program,
WonderMaps
.
If you are a cartophile
(a map lover)
or if you like history and geography just a little, then
WonderMaps
is definitely for you. So, What is
WonderMaps
?  It's a customizable collection of over 350 maps that you can print and study in a large variety of ways.  Sold on CD or as a download for Mac or PC, you'll love integrating maps into all of your daily lessons -- history, geography, literature, Bible and more.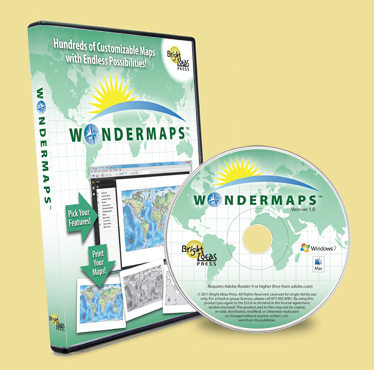 Designed so that you can pick and choose which features you want your maps to include,  
WonderMaps
is divided into the following four categories:
1.  The World Continents, Regions, Nations
2.  United States of America
3.  Historical Maps which include The Ancients, The Middle Ages, The Renaissance, Restoration and Growth of Nations AND Revolutions to Rising Times.
4.  Thematic Maps which include American History, Explorers, World Wars, Biblical Maps, Native Americans, 20th Century Treaties and Chinese Dynasties.
Once you choose your category, you can customize maps to fit whatever you happen to be studying.  By easily clicking through the menu, you can get an "up close and personal" feel for where in the world you are.  Maps can be labeled or printed blank for memory and quizzing purposes.  They can be printed in full color or in black and white.   The Teacher's Guide included offers some great resources as well.  One of our favorites was the "How to Make a Salt Dough Map" instruction guide.  We are working on a Salt Dough Map of Mississippi to complement our Mississippi History studies.
I have especially loved the Biblical maps included in 
WonderMaps
.  I participated in the Read the Bible in 90 Day Challenge this year and being able to "see" what I read has added an incredible depth to my Bible study.  How neat to see Jonah's Journey and the location of the storm where GOD got his attention!  How interesting to see Babylon in Daniel's time -- and compare that to modern-day times!
My MainMost and our All-Boy have enjoyed perusing the map of the Civil War battlesites -- and planning their trip to Shiloh Military Park this summer.  I'm also looking forward to using maps next year as we head into the study of Renaissance period.  The maps add a great visual aid to our studies.  This is simply a FANTASTIC program!
As an extra bonus feature, if you are using either
The Mystery of History
or
All American History
curriculums,
WonderMaps
has an easy access section where you simply click on the unit you are studying each day to find the printable map for that lesson.  How cool is that?
You can add the fun of learning with maps to your homeschool by
purchasing
WonderMaps
from
Bright Ideas Press
for
only $49.95
.   If you are a subscriber to
The Old Schoolhouse Magazine
, there is a Coupon Code for 20% off  in the current edition.  (If you are not a subscriber, now is a perfect time to become one!  The Spring Giveaway is AWESOME!)
~~I was given the opportunity to use and review
WonderMaps
as a member of the 
TOS Homeschool Crew
.  The opinions stated are mine and mine alone.  I was not paid to share my thoughts and feelings with you.  I encourage you to check out the 
Crew Review
and see what other members of the TOS Homeschool Crew thought of  
WonderMaps
HERE
.~~
Pin It Now!