I had the privilege of reading the book
WISE GUYS: Unlocking Hidden Wisdom from the Men Around You
by Kent Evans last year and I was thrilled to see it as part of the bigger package of
Manhood Journey & City on a Hill Studio
's
Manhood Journey Father's Starter Kit
this year. I was impressed with Kent's insight and honestly couldn't wait to get my hands on the
Manhood Journey
that he co-authored. I serve as Middle School Minister at my church and I make sure to offer Guy's Only Bible Studies throughout the year. I just knew that this was going to be a good thing for my middle school boys. I was correct.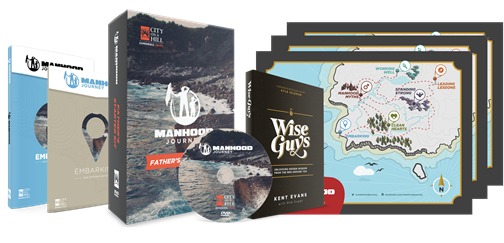 In our ministry, we are intentional about finding wise men and women in various seasons of life to come alongside our kids in mentorship roles. It is super-important to us that our guys are surrounded by GODLY MEN who will hang out with them and pray over their hearts and stand beside them and point them to JESUS. We know that real MEN of GOD are crucial for our boys' lives as hormones rage and they embark on figuring our who they are and WHOM they should serve. The
Manhood Journey
offers an easy way to deepen relationships while drawing closer to GOD. I like to put quality resources in the hands of my leaders as they hang out with the guys and lead them to CHRIST, so I was excited to introduce the
Manhood Journey
curriculum to them.
The complete
Manhood Journey
consists of six modules that each last six weeks. The modules are titled
EMBARKING
,
CLEAN HEARTS
,
WORKING WELL
,
STANDING STRONG
,
MANHOOD MYTHS
, and
LEADING LESSONS
and are intended for fathers and sons (ages 8 - 17) to navigate through together. There are hands-on activities with each lesson, video introductions, and guided discussions. Dads and sons can go at it alone or they can join together with a group of other dads and sons to form a small group community. The
Manhood Journey
provides a blueprint for men to help youngsters focus on topics of Biblical manhood through both a Group Guide and a "1 on 1" Guide. The Group Guide offers step-by-step instructions for leading the Bible study community through each week's meeting. The hour-long meeting includes Meet and Greet/Welcome activities, guided Discussion topics, Prayer Times, and Homework to be completed before the next week's meeting. Dads also have a "1 on 1" Guide that serves to take home the small group lesson and dig in a little deeper together through Bible readings and Scripture memorization. It's all laid out so that fathers and sons can learn together on a more personal level, but there is no pressure on dad as it is all ready-to-go.
Doesn't this sound great? Our boys need MEN who love them and show them JESUS. I love the heart of this resource. So, what do you do with the young guys whose dads are not in the day-to-day picture? Although designed for dads and their sons, it's perfectly fine for stepdads, uncles, granddads, guardians, coaches, teachers, or middle school small group leaders to walk alongside the young men in discipleship roles. I am privileged to have some of the greatest servant's hearts walking alongside the guys in my ministry. These men go over and above to make sure that every middle school boy has the opportunity to see his true worth in the eyes of GOD.
A six-week curriculum, EMBARKING is the starting point for all of the
Manhood Journey
. In this module, guys explore what it means to be a GODLY man, what a GODLY man looks like, and what characteristics a GODLY man possesses. The EMBARKING module gets men talking and opens the door for relationships to develop. Participants discuss what it means to trust the LORD, how to pray fervently, and how to truly study GOD's Word all the while building relationships and teaching boys to be men that serve others.
To teach this, guys study the
Five Big Rocks
that help dads and sons keep focused on what really matters. A GODLY man does five key things. He
Trusts the LORD
Knows HIS Word
Prays Fervently
Builds Relationships and
Serves Others
When a GODLY man gets all these right, all the other stuff in life fit neatly where it should.
After completing this first module, small groups can then chart their own way through the remaining modules. They choose which ones to do and in which order to do them depending on the needs of the group. One of my favorite parts of these sessions is knowing that men are praying over their sons and their sons are hearing words of LIFE spoken over them. I like that my guys are really digging into their Bibles and that they are opening up scripture in a way they didn't know possible.
For more information about the
Manhood Journey
and
City on a Hill
, please take a few minutes to visit the following Social Media sites:
These things are of the utmost importance. We are tasked to raise a generation of believers who will stand for what is right and true and admirable. Our guys are called to be the light of the world, a city on a hill. Let's make sure our guys are experiencing truth together,

I was given the opportunity to review
Manhood Journey Father's Starter Kit as a member of the
H

omeschool
Review
Crew
.
You can check out the
Crew Review
and see
what other members of the
Homeschool
Review
Crew
thought
of this Unit Study and other resources we reviewed (or just click on the banner below.)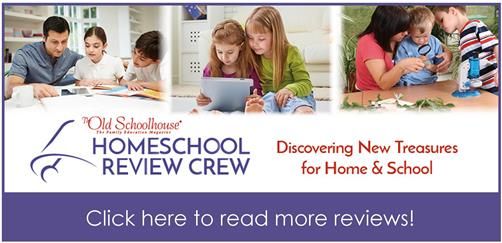 Pin It Now!