I may be a nerd, but I enjoyed diagramming sentences in school. I always loved the fact that everything had a place and I liked setting it up to be exactly where it was supposed to be. There's just something about finding order and structure in language that helped me better understand the writing process itself. When you take the time to map out which words describe what, your writing becomes clearer and more organized. Diagramming was always FUN for me and I looked forward to sharing that with my children. A logical challenge in a crazy, illogical world, I knew that my kids would thrive on the visual representation and that it would help improve their writing skills. I just needed to find the right resource. A great resource to introduce the diagramming of sentences in your homeschool environment is found in

Sentence Diagramming

: Beginning

.
Written for students in 3rd grade and up,
Sentence Diagramming
can actually be used all the way through college. Published by
The Critical Thinking Co.™
,
this 68-page softcover workbook begins with the diagramming of simple subject and main verb and progresses through twelve lessons to conclude with compound predicate adjectives and nouns. Each of the twelve lessons adds a new part of speech or modifier and new slants to the diagramming format. From an easy one-line, one-slant format to the more difficult multi-line, multi-slant format, students walk step-by-step through the diagramming process in just 15 - 20 minutes a day. For my high schoolers, this was a great way to focus on basic grammar without losing interest. The act of identifying the parts of a sentence is helping them to become more organized writers.
With each lesson, students read a brief introduction to the concept of the day with examples provided. They are then instructed to find the error in diagrammed sentences and re-diagram them correctly. This is followed by diagramming specific sentences and then writing additional sentences to match given diagram formats. Plenty of practice is provided for students and answers can be found for each question in the back of the book. It is set up so that the blank diagram format is included within each lesson which is great for students who stress over perfection in lines and slants.
(That's PERFECT for my house since one unnamed child tends to become bogged down in format obsession. Do you have any students like that at your house?)
The only exception to this is found in the review section at the end. It contains 25 sentences to be diagrammed, but there is no blank diagram format included.
One of the things that makes this such a great book for homeschooling families is that the workbook pages are perforated for easy tear out and permission is granted to make copies for use within your home. How's that for a family friendly resource?
For even more information about how you can best utilize
The Critical Thinking Co.™
products in your homeschool, please visit the following Social Media sites:
There are curriculum helps and options available for students of all ages, grades, and learning styles and sample pages are available for you to view on the website.
Do you have preschoolers? The Critical Thinking Co.™ explains the

Importance of Preschool Academics

and suggests a software bundle to get them started. Some of the other members of the
H

omeschool
Review
Crew
reviewed software from the
Reading, Writing, and Arithmetic Before Kindergarten!™
bundle
.
I think you'll find their reviews most interesting. Make sure to check out rest of the Crew Reviews and empower the minds of your students.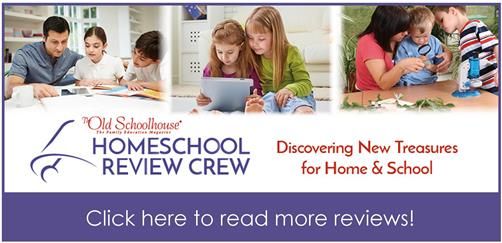 Pin It Now!