Words have meaning and names have power.
~author unknown
and HIS name shall be called Wonderful, Counseller, The mighty GOD, The everlasting Father, The Prince of Peace.
Isaiah 9:6
Names are important. Like most parents, we spent months choosing just the right names for our children. We wanted names that would breathe life and showcase character and we didn't want to mess it up. We studied books and family trees and even made sure that their initials wouldn't be embarrassing fodder for playground taunts. We made lists and had major discussions about how names should be spelled and pronounced. We prayed over each child that GOD granted us and asked HIM to guide us in choosing the correct names for them. We desired for them to have strong names that would help them find their places in this world and we wanted to share history and friendship and love. We chose family names for each child and prayed that they would find blessing in the names they received. We knew that names have power and it was the desire of our hearts that our children be able to find strength in the names that they were given.
Names matter and I was more than thrilled when
CrossTimber
blessed us with the chance to review their
Personalized Framed Plaque with Name Meaning and Bible Verse
. Our names aren't weird but they are NEVER the names that you can easily find on personalized bookmarks and magnets at souvenir shops. It seems there just aren't many JPs or Lynns or Claires or Victorias or Jenners or Elisabeths to be found. I've always wanted special things that tell about our names, but they simply aren't for the taking -- until now. I couldn't wait to get my hands on a perfectly personalized item or two and was excited to find out what
CrossTimber
would tell me about the meanings of all the names that make up our family and the Bible verse that best corresponded to that meaning.
And that's when I met John Dehnart.
CrossTimber
is a family business
(a homeschooling family, no less)
and they take much delight in sharing the meanings of names and the stories that they tell. John is the "face" behind the emails that helped me pick out just the perfect gift for a special person in my life, but he graciously shared the meanings of the names of ALL of my family PLUS the son-in-love and the soon-to-be son-in-love. John was extremely patient in helping me to decide what I wanted and was quick to share ideas on how I could make my items most special.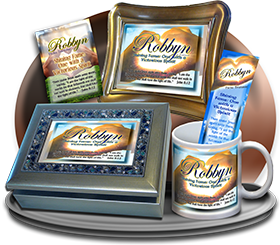 So, I'm going to let you in on a little secret. It's actually a pretty big secret, so mum's the word. As in,
Shhhhh . . . don't tell
. I knew from the very beginning that I really wanted to bless my Princess with this gift. You know, fifteen is hard and life is tough. More than any of my others, she needs a pick-me-up of encouragement and I really thought it would be most beneficial for her to see the real meaning of who she is through the eyes of GOD. Medically, she's headed into a pretty tough doctor's appointment next week and she's facing some rough days ahead, so I just knew that the
Personalized Framed Plaque with Name Meaning and Bible Verse
would be the perfect thing for her at the exact time she needs it most. Now, I'm only sharing this first-hand look with you, my blog friends, because I know you can keep a secret. Please don't tell her that you've seen her Plaque and I promise to come back and let you know how she reacted when she received it. Deal?
Because my girl loves music and finds great comfort in sitting at the piano and playing beautiful melodies, I thought that it was only fitting that her
Name Plaque
be musically oriented. I love this framed keepsake and I know that she will treasure it for years and years to come. I was able to pick the background that would be most meaningful to my daughter and I chose to let the experts at
CrossTimber
choose the best frame for it. This is what our combined efforts created. Isn't it lovely?
I can't wait to give this to her next week. I just love that her name will remind her that she is set aside for GOD's purpose and that John 15:15 will remind her that she was CHOSEN. So often in the middle of all that is, we forget that we are
set aside
and
CHOSEN
by GOD. We simply forget and let the voices of the world cloud our hearts. I like knowing that she will be able to look at this every day and be reminded.
How special this plaque is to me, how special it will be to her. I was also able to add a personalized message to the back of the frame. A little love note from mom to daughter that I pray will touch her heart. I want her to remember how very much she is loved and wanted and I want her to know that she has unwavering support at home. Always.

At the end of the day, I want her to know -- more than anything else -- that the graciousness of GOD makes her BELOVED and that no matter what the world throws at her, she IS HIS. I want to pour that in to her when she walks and when she talks, when she goes out and when she comes in, when she lies down and when she gets up. I can think of no better way than to hand her bookmarks that remind her that the LORD blesses her and keeps her. I pray that she will tuck these into the pages of her Bible and that she will use them as she reads through lessons each day in school and that these simple bookmarks will spill out of the books as she turns the pages as happy reminders. I pray that she will KNOW that she is loved as she looks at them and as she holds them.


CrossTimber
's name meaning gifts are beautiful. Yet, as beautiful as all of these things are, I simply MUST share with you that there is something even more special about
CrossTimber
products. When I made my final selections, John explained to me that they would begin putting them together to ship them out to me as quickly as possible. That was exciting to hear, but it was his next email that brought joy to my heart. I had shared very briefly with John about how life has been a little unfair to my Princess of late and how her self-esteem had taken quite a hit. He replied almost immediately to me that he could hear his mother praying for my girl -- by NAME -- as she worked on making her
Plaque
. Truly my friends, to know that a GODLY woman was bringing my daughter before the throne of the MOST HIGH spoke such love to this momma's heart.
If GOD is for us, WHO can be against us?
How marvelous to know that my precious child will hold in her hands and place on her wall the very items that have been prayed over especially for her? Yes, Yes, Yes
!
That's what I want for my child. How about you? Names are important and knowing that a company, a family, sits praying over the very names that I spent so much time choosing for my children matters. That's LOVE, folks.
CrossTimber
not only delights in sharing the meanings behind your names, they delight in sharing LOVE. I can think of nothing better.
Ready to choose your very own gifts of love? Christmas is the perfect time for personalized gifts. And here's even more fun for me to share with you:
CrossTimber
is hosting a special
Christmas Giveaway
and you can enter to win from now until December 4. Enter the giveaway for a chance to win a free Name Gift or $10 gift certificate
!
The GRAND PRIZE allows the winner to choose between a Personalized Mug OR a Name Plaque or an 8x10 Plaque
!
How cool is that?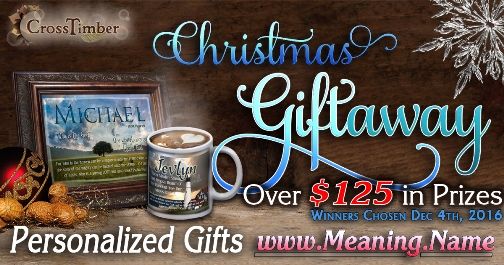 a Rafflecopter giveaway
For more information about these very special gifts from CrossTimber, please visit the following Social Media sites:
Bless someone today with a unique, life-breathing explanation of their name. Give them the gift of who they really are in the eyes of JESUS. And remember, don't tell my girl that you've seen her special surprise. I can't wait to give it to her.

I was given the opportunity to review the
Personalized Framed Plaque with Name Meaning and Bible Verse
from
CrossTimber
as a member of the
H

omeschool
Review
Crew
.
You can check out the
Crew Review
and see
what other members of the
Homeschool
Review
Crew
thought
of this and other puzzles as well (or just click on the banner below.)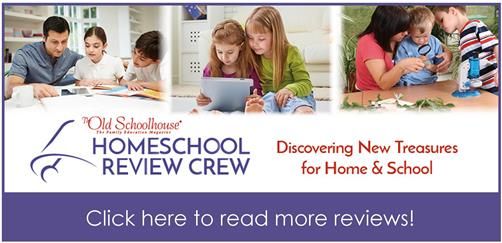 Pin It Now!