Math is not our thing. It is a struggle. every.single.day. I was excited for the opportunity for my girl to use the a brand-new-to-homeschoolers online math program from
LearnBop
called
LearnBop for Families
.
LearnBop
has been around for quite some time, but they've catered to the school environment and are just finding their way into the homeschool arena with math programming for 3rd - 12th graders. How fortunate we are that they are doing so. We received a 12-month subscription of the Single Student Plan and I am so glad that we did.
My girl has
struggled with
hated
math and all math concepts since day one -- truly for as long as I can remember. She absolutely, positively does not see the value that math has for her future and high school math requirements are kicking her tail. She says she just cannot do the required maths and is frustrated with herself at the less than stellar record she has thus far. As you can imagine, when I introduced yet another "math program" to her, she was not the least bit enthusiastic and predetermined not to be impressed.
We decided that we would approach
LearnBop
as a personal
math tutor
instead of a new math "program" and she could take a relaxed learning approach while using it. Upon setup, I chose the Roadmap (math level based either on grade level or specific mathematical concepts or high school math course title: Algebra 1, Algebra 2, or Geometry) that I wanted the Princess to be at and she was able to choose an icon to represent her as she wished. Before beginning the actual course work and progressing along the Roadmap on stops called bops, students first complete a warm-up exercise of 10 math word problems. This warm-up helps determine what a student is ready to learn and places them exactly where they need to be to master the given concepts.
Remember that I said I chose the Roadmap that I
wanted
my daughter to be at? Thank goodness that
LearnBop
thought ahead and allowed me the opportunity to change the Roadmap if I got her in over her head. Our first try was WAY OVER her head. Trying to work through the first set of warm-up exercises was like trying to read a foreign language in her opinion.
"What IS a box plot, mom? And WHY do I care? Hello?? Quartile??"
She was ready to throw her hands up and give up until we adjusted the path and started anew. [How's that for keeping it real in reviews?]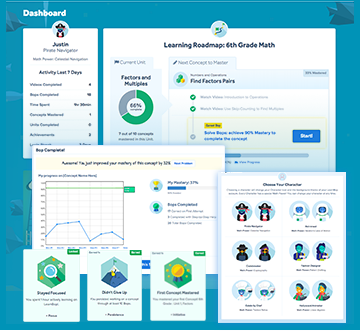 Once the correct Roadmap was chosen and the "foreign language" was understood, my daughter was happier to complete the warm-up exercise -- and that's where the learning really began. The warm-up is designed to identify learning gaps and help each student succeed. The cool thing here is that the Roadmap self-adapts as your child works through it to be just what a student needs right when they need it. There is no reason to spend hours on math concepts you've already mastered. The self-paced nature makes it easier for a student to feel successful and step-by-step help is available with the click of a button at any time it is needed. For example, when students mark an incorrect answer,
LearnBop
breaks down each portion of a problem and walks them through how to find the correct answer.
Each Roadmap is broken down into "Bops" that include short videos (we've not encountered one longer that 5 minutes yet and that's perfect for my daughter's attention span) and lessons and require 90% mastery before students move forward. Here's what she likes . . . a lot. The videos are short, but they are interesting. Different people voice them and they are illustrated with bright colors and cool fonts. The math problems are relevant to her everyday life with questions that ask about cell phone distractions and baseball statistics, so they don't have a "boring baby math" feel. They contain what she calls "bells and whistles" as she is directed to pull up graph pieces, move answer boxes, and choose the correct statements. She can use her laptop and as she answers correctly, she can map her progress and actually SEE success. When she masters concepts, the program tells her she has done so and gives her the option of continuing to practice or begin something new. I love that she is motivated to keep learning.
And what does she not like? She's not so thrilled that you still have to use paper and pencil to work some of the problems and she is not a huge fan of the time it takes to complete a lesson. I think kids today think paper and pencil is archaic -- but it's a necessity that I'm not yet ready to give up. As far as the time it takes to complete her lessons go -- she's getting faster as she becomes more comfortable with the problems. It builds character, for sure.
Has my girl fallen in love with math as a result of
LearnBop
? No. But, she has improved her skills and understanding of concepts and I am seeing a positive growth in her scores as her frustration level diminishes. I have to be completely honest and tell you that at this point in the year, that's good enough for me. She is learning that math is not the enemy and progress comes the more you work. I'll take it
!
You can find out even more about the personal tutor/self-adjusting math program
LearnBop for Families
from
LearnBop
by visiting the following Social Media sites:

I was given the opportunity to review
LearnBop for Families
from
LearnBop
as a member of the
Schoolhouse
Review
Crew
.
You can check out the
Crew Review
and see
what other members of the
Schoolhouse
Review
Crew
thought
of it as well (or just click on the banner below) and you'll see how it worked for families with children of all different ages and grade levels.

Pin It Now!