I am always excited by art offerings in our homeschool and
Sculpture Technique: CONSTRUCT
by
ARTistic Pursuits Inc.
does not disappoint. We've had the opportunity through the years to review several of the
ARTistic Pursuits
books,
but this one is our favorite hands-down. I love that my girl is super creative and doesn't mind making a little mess to see her ideas come to fruition. My mom was a "no mess" kind of momma, so I never had the opportunity to get dirty. My girl is happy to dive right in and see where it takes her. I love it.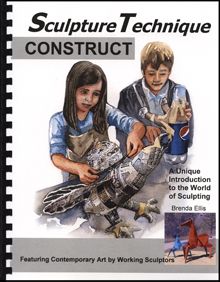 This comb-bound book contains 83-pages of instruction on the elements of structure and guides students how to use a variety of materials to simply "create" with their hands. Divided into four units of study,
Sculpture Technique: CONSTRUCT
is a self-paced manual that is written directly to the student. There is no set time for most projects -- students simply work as long as they like unless directed to wait for materials to dry. The hands-off icon lets them know it's time to take a break. I like this unique approach as it allows my daughter to self-regulate. What a great skill to learn for LIFE
!
The instructions provided for each activity are easy-to-understand and are accompanied by full-color illustrations as visual guides. Each unit begins by explaining what the student will learn, shows example from real life works of art, contains multiple projects using the media discussed, and ends with an evaluation so that students can reflect and understand what they have been studying and doing.
Unit 1 teaches students how to create form in papermaking. (4 projects)
Unit 2 teaches students how to create planes in cardboard. (7 projects)
Unit 3 teaches students how to create motion with papier-mache. (9 projects)
Unit 4 teaches students how to create volume with wire. (12 projects)
There are answers to the unit evaluations included in the text, templates for some of the projects, and a 36-week classroom schedule if needed. Each unit can serve as a stand alone study so students do not have to move through the book in order.
This was perfect for the Princess. She read through the introductions of each unit before choosing where she wanted to begin. Unit 2, Creating Planes in Cardboard, was her first pick. After studying about planes and looking over several architectural models, she was excited to begin her sculpture.
First, there were supplies to be gathered. Luckily, most of the supplies can easily be found in stores that are local to us. The supply lists call for normal, non-expensive things that you can find in Hobby Lobby and Wal-Mart although ARTistic Pursuits also sells kits that will keep you from leaving home.
With the cardboard sculpture, my girl was able to combine several of the projects in the unit to create her final masterpiece. She painted her cardboard base, used templates to create three dimensional cubes out of cardstock, and glued pieces and parts together to form the coolest hospital ever -- complete with outdoor landscaping and a parking lot.
The Princess says what she likes most about
Sculpture Technique: CONSTRUCT
is that the instructions are easy to follow but they allow you to put your own twist on the project. She says the wire sculpting is going to be her next "big thing" but that the molding and papier-mache look pretty cool, too. I anticipate many hours of creativity ahead.
What I like best about this study is that while she's being creative and having fun she's also passing off requirements for high school art credit. You just can't go wrong with a combination like that.
It's been a fun adventure -- and the best part is that it will continue. We're learning to relax and enjoy the process more and more these days and
ARTistic Pursuits
is a great tool for our exploration.
You can connect with
ARTistic Pursuits
through
FaceBook

and be sure to check out some of the other reviews.
Many of my fellow Crewbies have had the opportunity to "create" a myriad of cool things through the pages of the many different
ARTistic Pursuits
books, so please be sure to visit their reviews and see for yourself how many different ways you can introduce an art program into your homeschool. You'll be glad you did.
This day has the potential to be your most creative day yet . . .


Pin It Now!