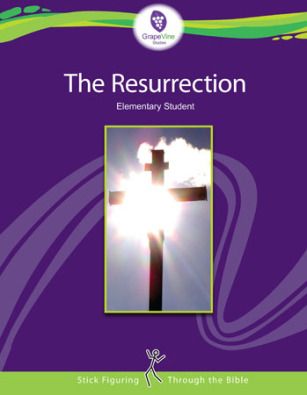 Before Christmas, I had the opportunity to share the story of the birth of JESUS with children and middle schoolers at church through
Grape
Vine
Studies
and it was a wonderful experience for us all. The children LOVED digging deeper into the familiar story as they drew along with me and I loved being able to grow disciples one stick figure at a time. I have been blessed to be able to share the true story of Easter with the children and middle schoolers using
Resurrection: Multi-Level
studies which includes both Student and Teacher books with lesson plans for 11 weeks (or 40 days -- perfect for studying during Lent).
Now I'm definitely no artist, but I can certainly follow along and draw the stick figures with the step-by-step illustrations presented in the Teacher's Guide. Actually, I guess I should have given a disclaimer to my middle schoolers that I was being directed on what to draw. One sweet girl saw my Teacher's Guide Wednesday night and exclaimed that I was cheating. I guess I followed along so well that she thought I was making it up as I went along. You've gotta love 6th - 8th graders. They'll certainly keep you on your toes and hold you accountable.
You all know how much I LOVE
Grape
Vine
, but do you actually know what it is?
Grape
Vine provides students with a hands-on learning experience
as they hear the WORD, see the WORD, and feel the WORD. Bible stories and biblical truths are taught in a clear, concise way using color-coded drawings (for example,
JESUS
is always drawn in
purple
) to make the stories of the Bible come to life.

I think it's wonderful that kids of all ages
(and adults, too)
can really appreciate GOD's Word in an entirely new way through something so simple as stick figures. Each and every finished page is unique -- a perfect reminder that GOD created us all differently. Each lesson has multiple squares for directed study. Students read from GOD's Word, summarize what they've read, depict the scene on paper, answer simple questions to "make it stick," and are even encouraged to memorize Scripture relevant to the specific lesson.
The Teacher's Guide (87-pages) makes it easy to pick up and begin. There is no prep work required for lessons. You can simply follow the Guide as you read Scripture aloud and review, draw the illustrated figures on a white board, and allow the students to copy onto their own pages.
I make copies of the student pages each week and pass them out at the beginning of our time together. Older students get regular pages with blank boxes and they use my drawings as templates for their own. Some are quite elaborate artists, others copy my drawings exactly. Children are given a choice between blank boxes from the Multi-level Student Book (57-pages, ready-to-copy) or boxes with traceable images. Preschoolers receive traceable images from the Traceable Student Book (57-pages, ready-to-copy). This keeps the class moving smoothly along with limited requests to "wait, I'm not done yet" and helps keep the younger children on task. Middle schoolers and children help distribute the crayons to their respective classes and I allow them to move chairs to get comfortable. It's a super-easy set up all the way around. The "art" is easy and stress-free. Such a simple depiction of the Last Supper draws our attention to the bond that JESUS had with HIS disciples. HIS example of servitude goes above and beyond what most people are comfortable with today.
This Bible study method is simple enough for children, but meaningful enough that even wise adults can learn and grow. It never fails that GOD will show me something new as I study with the children. Ah-ha moments in GOD's Word are sweet
!
Each drawing is unique. Isn't that fun?
So, how soon can you get started with teaching about the true meaning of Easter and which level is right for your needs?
About the Levels
will help you determine exactly what will most benefit your family and you can find out more information about
How to Choose? and Where to Start?
and see
Samples
for yourself right now. Even more fun, you can sign up for the eNewsletter and receive free lesson downloads each month. And if you order soon, you can save money. The Easter special is WONDERFUL.
Don't take my word for it, though. Instead, scroll back through my pictures and check out how intently my students are working on learning about the Resurrection. Isn't that phenomenal? I want to make sure that preschoolers, children, and middle schoolers wholeheartedly understand the LOVE of JESUS for each of us. The Resurrection Study is a great way to help them comprehend all of the details of Easter. You want this for your family. You really do. Trust me on this one.
For even more information, please visit the following Social Media sites:
Periscope: @Grapevine Studies

I was given the opportunity to review
Grape
Vine
Studies
as a member of the
Schoolhouse
Review
Crew
.
You can check out the
Crew Review
and see
what other members of the
Schoolhouse
Review
Crew
thought
of this and other products as well (or just click on the banner below.)

Pin It Now!