We have completed our robotics season a bit earlier than we had hoped. Sadly, we did not receive a bid to the World Championship this year like we did last year. We were all a little disappointed, but we are already thinking ahead to next year and considering changes that need to be made. I think the most unique portion of our build season is that the boys build a robot without using much real world math. It's enough to drive the team dads crazy. The engineers and technology experts in them just can't stand to see machines at work when they know that not once did

Pi

come into play. Instead of using mathematical formulas,

Blue Crew, Too

uses trial and error. They build that way. They program that way. They compete that way.

(I know, I know

!

We shake our heads every year and wonder how they make it work.)
For some reason, math seems to be the bane of our existence. And in my experience, that is true for many a homeschooling family. It's the one subject that I most hear folks question their ability to teach. It's been a tough one for us through the years as well. Until now. Enter
Demme Learning's Math-U-See
.
Math-U-See
is giving my son the confidence that he needs to learn
how
and
when
math applies to life -- and robots. Our robotics build is going to have a brand new feel next year as the Eagle Scout takes it to an entirely new level utilizing the skills he is gaining AND understanding through the
Geometry
Digital Packs
. I'm here to tell you, this is working.
What I like about
Math-U-See
is that everything is included so that I am assured that my son is getting top notch instruction. We began this review by taking a Placement Test to see which math would be most suited for his skill set.
Math-U-See
has a unique scope and sequence for the different math subject areas, so I highly recommend taking the Placement Test for a customized fit for your students.
Demme Learning
really does aim to make this mathematics experience the least painful ever.
What I like about the Geometry
is that all of the lessons are provided for me on video. Rusty math skills and not sure how to teach? No problem. The video lessons make it easy to jump back into higher level maths. Each video lesson provides ample explanation for the concepts presented and they are interesting to watch. Mr. Demme is upbeat and energizing as he explains points, rays, planes, lines, angles, etc. He is a fun conversationalist and my guy doesn't mind sitting down to work on math each day. Score
!
Students
(and parents, too)
can watch the instructional videos over and over -- until they feel like they understand the topics presented. All of those long-forgotten concepts come to life again and take me back to Mr. Lee's class. The Student Text (372-pages, softcover) helps make sure that students actually UNDERSTAND what they are LEARNING. Following each video lesson, there are two Lesson Practices that focus on the new material covered in the current lesson, three Systematic Reviews which offer a cumulative review, AND an Honors Lesson of word problems to further extend the lesson into real world concepts,
i.e. robotics
.
So how does that look in our homeschool setting? The traditional way that families have been using
Math-U-See
is through physical DVDs.
(Way back in the day, you actually purchased VHS tapes -- and my sister-in-love, the homeschooling pioneer in our family, shared hers with me when I first started homeschooling 16 years ago. Do you remember the days of rewind?)
With advancements in technology come new and improved methods. Thank goodness
!
Physical DVDs are still available,
BUT
there is a newer option that is working marvelously for our family. Newly introduced
Digital Packs
have proven to be the perfect way for my Eagle Scout to take charge of his own math education.
He built a "gaming computer" earlier this year and it is a fine machine with lights and sound, but it has no disc drive. They assure me that is the trend -- and he wasn't trying to get out of school at all. Lucky for him, the
Digital Packs
make it convenient to log right in and get started. No waiting, no hunting discs, no rewinding.
He can easily log into our account and watch the lessons (15 - 20 minutes each) in the comfort of his own room. He doesn't need me to help set anything up and he's not having to wait for his sister to clear the living room. He simply sits at his desk, wearing headphones and watches and listens along. Following his viewing of the lesson, the Eagle Scout works through the problems for each lesson and we check them together for accuracy. (He could do this on his own with the PDF in the Digital Pack, but I like looking over his work and taking the pulse of successes and struggles.) If he has mastered the information, he continues on to the next lesson. If not, we discuss and he has the option to re-watch the streaming video. It's a win/win situation for us. I like hearing my boy yell "Eureka!" when something clicks. He likes having "ah-ha" moments, too, and says it makes him feel good when he really get it.
Digital Packs
offer a 12-month online streaming portal for the specific course videos. (This is the same material found on the DVDs.) They can be accessed via computer, iPad, or telephone. This in itself is GREAT, but the
Digital Pack
includes so much more. A record-keeping sheet keeps the Eagle Scout and I on the same page and offers accountability and graph paper of all sizes can be easily printed as needed. There are practice sheets available for all math levels, as well. The 30
Geometry
lessons are perfect for a year's study. Testing is optional. To use the
Digital Packs
, you will need to purchase the Student Text and the Test Booklet (88-pages, softcover), but you do not need to purchase the Instruction Manual because PDF solutions are available for every lesson, every unit test, and every exam.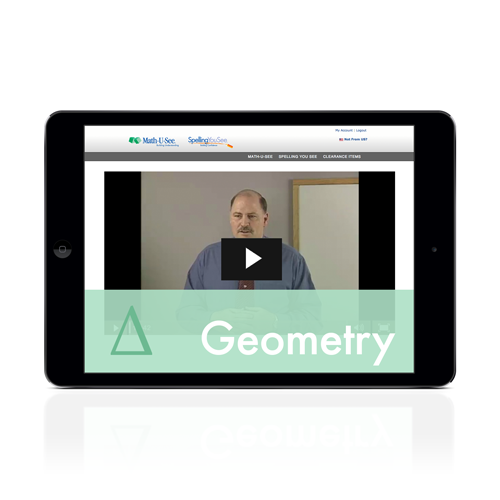 For more information about
Demme Learning's Math-U-See
, please visit the following Social Media sites:
I'm looking forward to seeing how much improvement will be made during our robot build now that my son has a working knowledge of mathematical formulas. I'll be sure to share.


Pin It Now!