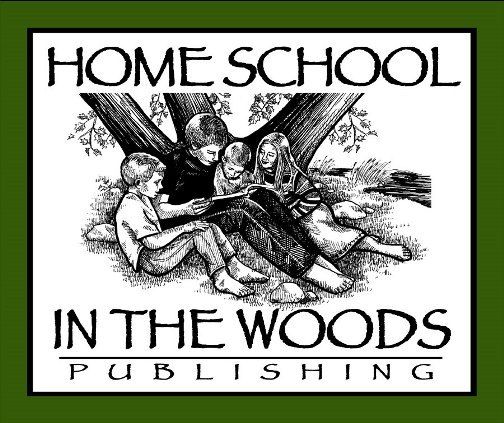 My undergraduate degree comes from a major in Political Science
with emphasis on the American Presidency
and a minor in American Studies. As impressive as that sounds, there's not a whole lot you can do with it in the real world, but you can imagine that this momma is pretty excited every four years when the presidential election rolls around. I really enjoy the selection process and aim to make certain that my children understand the mechanics of the political machinery that sets our nation apart from others. Over the years, we've studied this in numerous ways -- watching debates together and discussing the rhetoric used, reading articles on individual candidates for current events, and studying voting records and biographies of each candidate -- making sure to hit all of the high points along the way. For this election cycle, we are using the
HISTORY Through the Ages Hands-On History Lap-Pak: U.S. Elections
by
Home School in the Woods
. It is the perfect resource to incorporate into both my 9th grader's required Civics credit and my 11th grader's U.S. Government credit. What a delightful review this has been for us.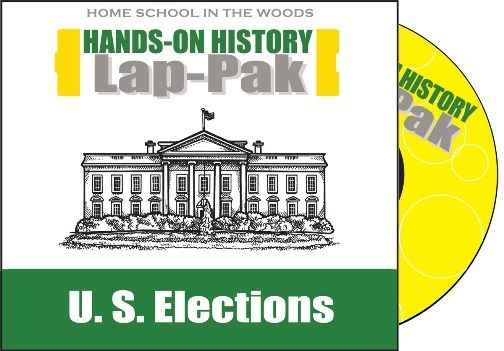 The
U.S. Elections Lap-Pak
is a comprehensive introduction to the political process that will benefit students of all ages. (The
Scope and Sequence
is provided on the website. Check it out to see how it will best benefit your child and to see the titles of all of the projects in the lap-pack. You're going to be super-impressed with all of the information covered. Trust me.) There are 21 projects included offering work on Creative Writing, Art, Research, Reading Comprehension, and Vocabulary skills. These "projects" begin by teaching what an election actually is, the different forms of government seen, and how our government works through the three separate branches and explains the election process from announcing an intent to seek office to fundraising, primaries, caucuses, and the National Convention for each political party. My girl was amazed to find out that political parties weren't limited to the mainstream Republican, Democrat, and Independent and was shocked to learn about the overlapping origins of each.
Students as young as 3rd Grade can utilize and learn from the hands-on projects although younger students will need help putting some of the components together. There is a good bit of cutting involved in most of the projects, but the end results are well worth the effort. Moving "parts" make it fun to read and re-read the finished product (whether you choose lapbook or notebook) and make this an educational treasure in my opinion. The mechanics of each project offer incredible "sticking power" to the lessons being taught. My children have been enamored with moving parts and pieces for as long as I can remember. Way back in the day, the
lift the flap
and
spin the wheel
books were always the favorites here. How neat that their are "big kid" versions of those very things that still teach.
The
U.S. Elections Lap-Pak
can be purchased in two versions. You may choose either a physical CD or an immediate download. Both versions contain all instructions needed for building a lapbook and assembling the projects
(including supply lists, suggestions, and illustrated directions showing you how to compile the individual components)
, audio teaching files, and reading text in two printable sizes. For purposes of this review, we used the downloadable version. Simple emailed instructions made it easy to download all files, print, and begin work within minutes. I chose to print all needed components for my daughter up front so that she could work on the Lap-Pak/Notebook on her own. She had full access to the audio portions of the teaching text and listened along to the lessons while she worked on the projects AND we printed the entire reading text to add to her notebook so that she can underline, highlight, and study.
Home School in the Woods
Lap-Paks are designed as complete studies for 3rd - 8th grades, but don't let that fool you into thinking it's not valuable for older students as well. An additional
"Suggestions for Other Resources"
page includes websites to explore and books to read so that students can further explore topics of interest on their own. This course has complemented our current discussions surrounding the Presidential election and we used the extra resource suggestions as a way to expand the study into our high school curriculum. My daughter had fun sharing her creative flair and I have enjoyed watching her excitement as she learns.
(She even talked the guys from her robotics team to dress the part with her at a recent Scrimmage.)
Presidential Hopefuls: Clinton, Carson, Bush, and Trump
As you know, my favorite part about homeschooling is that we can tailor subjects to the individual needs of our children and we can think outside-of-the-box when it comes to making things work in our own homes. A great example of this is found in the
U.S. Elections Lap-Pak.
Here is a picture of how
U.S. Elections
might look if your students choose to make a traditional lap-pak (or lapbook) with it: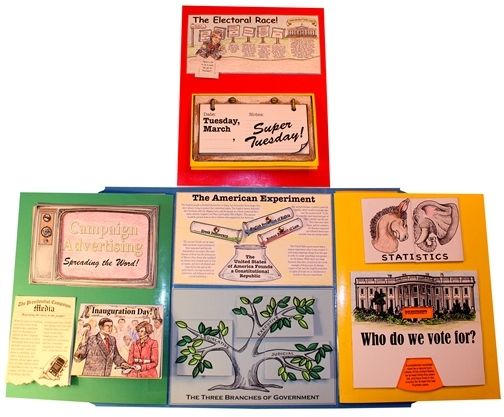 We've done lots of these at Long Leaf Academy and found them to be super-fun learning tools. I have a shelf in our school resource room dedicated to file folders of learning and they are neat to look at still. Of course, now that my children are older, they have their own ideas about how things should be done. There's not that much "traditional" about us anymore. Here are pictures that show how our NOTEBOOK is shaping up:
The Princess decided that she wanted to be able to add relevant articles to her work as she follows the election. She is including primary results, political advertisement critiques, and biographical summaries to the pages as she watches the election unfold in real-time. Our "Lap-Pak" is becoming a full-on discussion of politics as seen through the eyes of a 14-year-old -- in notebook format. Let the candidate beware . . . impressionable eyes are upon you.
For even more information, please visit the following Social Media sites:
In my professional opinion, the
HISTORY Through the Ages Hands-On History Lap-Pak: U.S. Elections
is good stuff. Very well put together, superb teaching content, and enjoyable by all,
Home School in the Woods
has done it again. This one is a WIN.


Pin It Now!