I have enjoyed reviewing items for the Schoolhouse

Review

Crew

for several years now. We've had products come through Long Leaf Academy that were perfect for my children individually and we've had products that are perfect for our family collectively -- we've read books, listened to music, studied together, and played games with friends. There have even been products that are perfect for me -- things that encourage me and remind me to stay the course. I have enjoyed most everything that we've had the opportunity to use and review and it's hard to pick a personal favorite because so many of the items I've been able to share with you offer benefits in a variety of ways. BUT . . . I have now had the distinct privilege of using a resource that truly offers something wonderful for everyone in my family AND allows us to each use it to better ourselves, our family, and our school environment.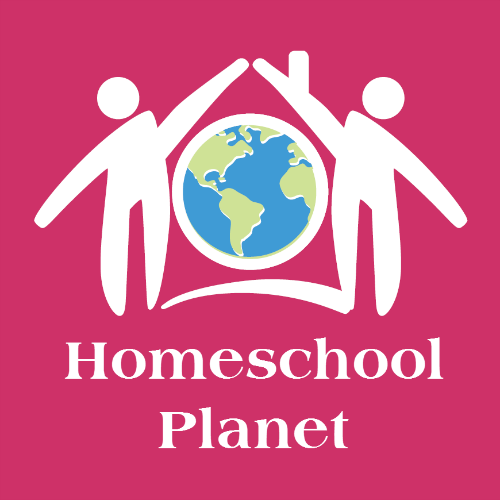 Homeschool Buyers Co-Op
offers a most wonderful resource for moms and families in its
Homeschool Planet
. I like to be organized and I like to plan. Planning makes me feel accomplished and helps me to get a grip on the crazy that is our life. I've tried paper planners and digital planners
(both for personal events and for school lessons)
and I keep a color-coded calendar of activities on my computer and phone. This method has served me well for 15 years of homeschooling life, but I've often looked for a way to effectively fuse the two together. Most homeschooling planners offer great options for planning your educational day, but leave out necessary components for planning your extra-curricular day. You know, all that stuff that happens before, during, and after the daily lessons.
That said, I went into this review of
Homeschool Planet
expecting a pretty good lesson planner without the life planner I desired. And then I found out I could have it text my grocery list to my husband so that he could stop on the way home from work for things we needed, and I was sold. SOLD. And why, oh, why does a grocery list text sell a homeschooling planner? Because if you can average my grades, help keep my kids on task through assignments, track my crazy schedule, AND remind my husband of all the things I forgot at my last grocery shopping expedition, then you have fully integrated yourself into my life and I can't live without you. It's just as simple as that.
I'm currently running
Homeschool Planet
on both my laptop and my iPhone
(a scaled-down version that makes sure I see the highlights of the day's activity and assignments)
. It is quickly becoming a must-check reference as I begin my day and plan the upcoming school year. And did I mention that it is also fully personalizable so that I can choose which themed background I want? I've chosen a
cool blue
,
chocolate
, and
lime greeen
color scheme that makes me happy but there are horses, dinosaurs, butterflies, and more if I decide I need a change.
With the click of a button, I can access my
Homeschool Planet
and see the weather, my daily task list, check out my calendar in a week-at-a-glance, and read an inspiring quote to get my day started. I can add to my shopping list
(that same one I'll be texting to my husband later today)
and organize coursework for the next year of school. I have set up profiles for each person in my immediate schooling family
plus my husband
and I can track their attendance, send them daily digests of what they need to accomplish in school, set reminders for activities to be texted or emailed to them, and keep a record of work schedules, Girl Scout meetings, soccer practices and games, gymnastics class, piano lessons, and church activities and Bible studies all in one place. We can easily look at a day, week, or month and see what is looming on the horizon. This helps us to all be better prepared. Even more, there is a transcipt maker built right in to
Homeschool Planet
. This is an absolutely PERFECT necessity for my high school students. EVERYTHING we do has a place on the transcript and placing it there as we go along makes for an easier time for me as graduations near.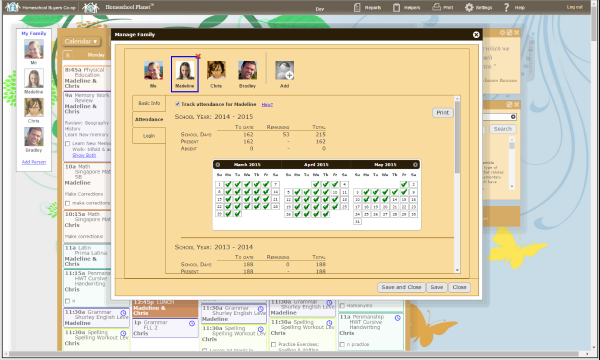 The ease with which I can schedule lessons (or re-schedule them when life gets in the way or students struggle to learn.
Please tell me you know exactly what I'm talking about? We can't be the ONLY family that has to re-think some days.
) makes this hands-down the easiest digital lesson planner I have EVER used. And I've tried quite a few over the years. With the click of the mouse, I can create a class and add assignments. There are a multitude of options to make planning easier for me as I determine if I would like for my students to complete lessons sequentially (like a math class) or if I would like for them to read a pre-determined number of pages in a book (like a literature class). I like that I can easily add digital resources, websites, book titles, and more to the lesson plan itself and make that accessible for my kids when they log in to check assignments and check their work.
Homeschool Planet
will even track how long each student spends in each subject and will help me assign grades for completed tasks.
It's almost like
Homeschool Buyers Co-Op
has been reading my mind . . . or gathering intel from homeschooling parents everywhere to see just what features we REALLY need/want in a planner. Hmmm . . . Well played,
Homeschool Planet
, well played.
And here's the thing -- this review doesn't even scratch the surface of what all
Homeschool Planet
has done to revolutionize my planning capabilities nor does it even begin to share with you its potential to make me even happier as the year progresses. I LOVE it and am headed into this school year more prepared that I have been in several years. We have a plan and it is going to work brilliantly. Even more,
Homeschool Planet
has fit right into my life like an old friend. My children are finding out how to prioritize and plan for themselves as they see the "big picture" of chores, school, appointments, and extra-curricular fun all on the same page. Who knew? You can find out more about this most wonderful, MUST-HAVE resource for your homeschool by checking out the following Social Media sites:
And you can even try it out for
FREE for three months
just to see how superb it really is. But beware: you're going to fall in love and want a regular subscription for yourself. Don't say I didn't warn you.


Pin It Now!