I'm all about helping my children reach their fullest potential

(have you read the name of my blog?)

and that definitely includes making sure they give their very best when it comes to math. I've been looking for a program to help my daughter unlock her math potential -- you know, something that she will actually enjoy and want to use for quite some time. Although it's summertime, we have still managed to do a bit of "summer school," as we continue on our quest to find the perfect math program. I'm looking for a math curriculum that will not only engage her, but that she will

want

to use for the next year without complaint.

Am I dreaming here?

Seriously, I need to find a math program that will grab her attention and keep it. There are deficits that we must overcome as we begin her high school journey.

We have had the opportunity to review an exciting new math program this summer called

UnLock Math

.

UnLock Math

is an online curriculum specifically designed to reduce the stress that is math

(the struggle is real, y'all)

. Perfect for students in 7th - 12th grades, there are two courses currently offered --

UnLock Pre-Algebra

and UnLock Algebra 1 which releases on August 3 making it perfect timing for starting your school year. UnLock Algebra 2 is in development and will be available in 2016.

The Princess has had the opportunity to utilize the

UnLock Pre-Algebra

course taught by Alesia Blackwood and it has been my prayer that this will simply reignite a love for learning in her. Alesia says that a

"strong foundation in Pre-Algebra equals a strong foundation in Algebra which equals a strong foundation for LIFE"

and I couldn't agree more. LIFE -- ah, the pressure

!

Math matters. We are setting the foundation for life. As a result, it was with great trepidation that we began this review. Math is our toughest subject and the one that can most easily bring us all to tears.

Can you relate?

If you're like me, you often think that all math programs are alike . . . BORING. Not so with

UnLock Math

.

UnLock Math

is different and our fear was unfounded.

So . . . what is different about

UnLock Math

and why would you want to try it out in your homeschool? First of all,

UnLock Pre-Algebra

is video-driven. And yes, I realize that there are plenty of video-driven math programs on the market, but Mrs. Blackwood is energetic and catches the attention of your student from their very first video "meeting." Delivered in bite-sized chunks, Pre-Algebra seems to be more manageable and much less daunting when taught by an enthusiastic teacher -- and not a stressed-out momma. Just ask my Princess. She much prefers sitting down to the company of Mrs. Blackwood over me. Mrs. Blackwood is humorous and patient and encourages her to keep trying.

UnLock Math

is like having your very own private math instructor at home.

(you can see them in the graphic above)

and the entire lesson takes only 15 - 30 minutes a day to complete depending on the concept being taught. Students begin with a quick

Warm Up

to help them get into "math mode." These 5 math problems help orient students to the keyboard and review what they've worked on thus far. Comprehensive in nature, the

Warm Up

helps assess exactly what your student does and does not understand.

Following the

Warm Up

, students watch a short

Video Lesson

(4 - 10 minutes each) that introduces the daily topic and offers instruction and explanation. Mrs. Blackwood is engaging and presents the instructional topic in an easy-to-understand way. She encourages students to use the included Reference Notes -- a pdf file for each lesson that offers hands-on help and further explains what has been taught.

At the completion of the

Video Lesson

, students answer 10

Practice Problems

. These problems cover ONLY what has just been taught. The Princess likes the fact that there is immediate feedback upon completing the practice problems and she can see exactly what she's missed and what the correct answer should be. She shared that it took her a while to get used to the layout on the screen for submitting her answers

(seems she accidentally exited the Practice Problems several times before successful completion -- uh-oh

!

)

.

After answering the

Practice Problems

, students learn to

Stay Sharp

with 10 or more additional math problems -- comprehensive in nature -- and then finish the lesson with a

Challenge Yourself

word problem. The Princess likes to

Stay Sharp

, but finds that horizontal math sentences most challenging. She much prefers vertical problems that line up "properly." The

Challenge Yourself

problem is MY favorite part of each lesson -- I love the mental exercise -- but it is not always simple. Even I have missed a few of the challenges given and there is no re-do when you miss a problem. That can be a bummer, for sure, but it serves as a reminder to actually read ALL of the problem you are being asked to answer BEFORE you submit your final answer.

The third thing that I find unique about

UnLock Math

is that it is easy to understand exactly what lessons and assignments have been completed

(there is a visible padlock icon that is unlocked upon successful completion)

and there is easy accessibility for students to get help when needed. In addition to the

Reference Notes

provided, there is a chat option available when questions arise. This is a great feature for moments when I am not immediately available to answer questions.

UnLock Math

both challenges and encourages students AND homeschooling parents. Reviews and Tests are built into the program and grades are assigned as work is completed. There is no planning necessary as the

Pacing Guide

does all of the work for you. I just have to be honest and tell you that I like that. A lot. Furthermore, I like that the Princess and I have separate log-in dashboards so that I can easily filter the information presented and transfer grades to my grade book. It is super-easy to access her grades which makes it easy to identify her strengths and weaknesses. I can also see exactly how much time she spends on every component of each lesson. Talk about accountability

!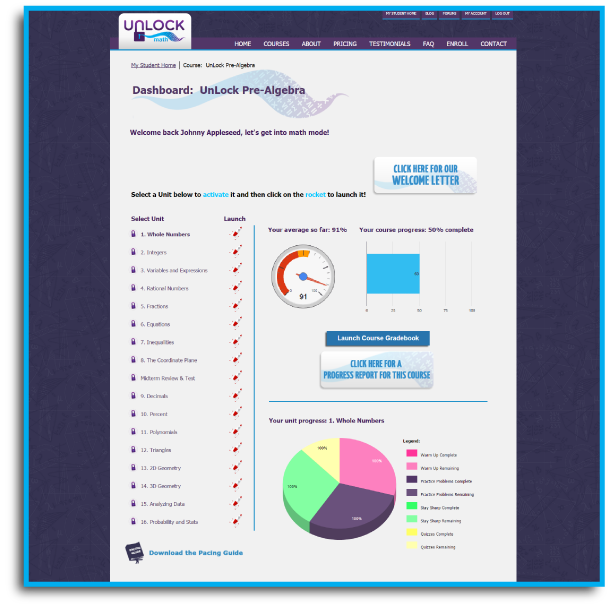 Lessons are short, sweet, and to-the-point. It makes it easy for my rising 9th grader to focus and finish. Now that our summer is winding down and we begin to look to the beginning of the new school year, I am quite certain that the Princess will continue to work through the units of
UnLock Pre-Algebra
.
With 16 units from
Whole Numbers
to
Probability and Stats
,
there is plenty of work to keep her busy for the entire school year. I look forward to watching her self-confidence soar as she continues to unlock the mathematical principles that have eluded her.
You can find out more about
UnLock
Math
by visiting the following Social Media sites:


Pin It Now!