Math has been my nemesis for as long as I can remember so when I was offered the opportunity to review
A+ Interactive Math
's
Adaptive Placement Test and Individualized Lesson Plan
, I was excited. We need all of the help we can get with math at Long Leaf Academy.
I had an AWESOME algebra and geometry teacher in 8th & 9th grades. He cared about his students and really wanted us to learn -- going above and beyond the call of duty to make sure we were understanding concepts. His classroom was a hands-on learning mecca with interactive displays and grade encouragers. I LOVED math.
And then, I had a very bad experience with a teacher when we moved to a new town and a new school. The class I had loved the most became the class I dreaded more than anything. I just didn't "get it" anymore. Trigonometry and Calculus were no longer fun classes. I think math has haunted me ever since. It's my least favorite subject to teach and I think that has rubbed off on my daughter. She abhors math and I am constantly looking for ways to help her enjoy and understand it.
I am pretty sure that math gets a bad rap in the homeschool community. It is the one thing we all love to hate. As a result, I find it difficult to make sure that my children are on target with math studies so I was thrilled to have the opportunity to review a program that helps me help them.
A+ Interactive Math
is an online program that helps you determine if your students are staying the course. The
Adaptive Placement Test and Individualized Lesson Plan
makes it easy to see what's working, what needs refining, and what needs ditching. With separate teacher and student accounts, we can all easily log in to get a perfect visual of concepts mastered and concepts needing work. It truly does help you "identify and close" the learning gaps of math.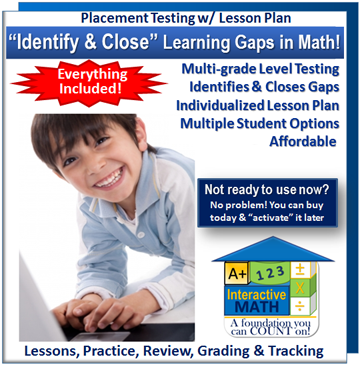 After reading through the
Top 12 Reasons to do Adaptive Place Testing w/Lessons
, I knew this would be a good thing for both my Princess and my Eagle Scout. With testing available for 1st Grade - Pre-Algebra, I used the Placement Test as a tool to see where gaps would present themselves for my Princess and as a refresher course for my Eagle Scout as he prepares to take the ACT. After a quick set up by me
(where I chose the grade level I wanted each of them to test through)
, both of my children were able to easily log in and begin the testing portion of the program. The Princess worked on her placement test on my laptop, while the Eagle Scout worked on his test on his desktop.
A great review for all ages
The number of topics covered on each test varies depending on the grade level being tested. For example, 5th Grade covers 17 topics from Number Sense to Word Problems and Pre-Algebra covers 14 topics from Fractions to the Pythagorean Theory. Each topic has between 10 - 40 math problems to check for mastery. The problems are each allotted a specific amount of time to answer (usually between 4 - 5 minutes each). Students answer the questions within that time frame -- and parents can see just how long each question took. Multiple attempts can be made on each concept providing ample opportunity for students to firmly grasp each testing component. This may be my most favorite part.
Once testing has been finalized, each student receives an individualized lesson plan that includes online printable worksheets based on the results of their placement test. This is simply invaluable to me as I work to present math in a positive light. My son soared through the placement testing. My daughter has struggled. I am excited though to move on with her now that we see the exact nature of her deficiencies. I am more aware now of what she has understood and what she needs to focus on in the months and years ahead. The Parent Dashboard offers ample suggestions for me to help her make improvements.
There are quite a few FREEBIES offered by A+ Interactive Math, and these offer a ton of help to any homeschool family. You can check out the
placement test
and
family math packages
and see how they each fit with your family. You can gain access to free worksheets, multimedia lessons, and ebooks, as well. There's even a 40 - 50% off sale going on from May 4 until May 18, so now is the perfect time to try it out. You will find out even more information by visiting the following Social Media sites:


/
Pin It Now!