1. If you don't know what each part of this flag means and represents, you should. Educate yourself. Educate your children. Remember. Memorial Day is every day.
2. When you blink, they grow up.
3. Family is important. Celebrate rites of passage together.
4. Somewhere along the way, I forgot to have fun. I'm working on remembering.
5. I love weddings and this one was beautiful. Congratulations, Jason and Haley
!
Praying years of blessings on your family.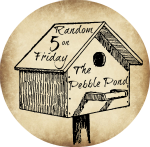 I'm linking up with my friend Miranda over at
The Pebble Pond
. Be sure to visit and be inspired by some other random thoughts today.
Pin It Now!