1. Waffle irons are not just for making waffles. This French toast was delicious.
3. After almost 14 YEARS of sitting in the orthodontist waiting room with my children, the end is near. Woo-hoo, pretty teeth.
4. Family is important. Love the one you've got. Hold tight to each another. Know the difference between a molehill and a mountain.
5. Don't die on molehills.
For what it's worth,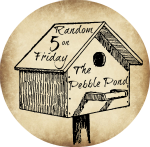 I'm linking up with my friend Miranda over at
The Pebble Pond
. Be sure to visit and be inspired by some other random thoughts today.
Pin It Now!