1. We are less than 6 months away from Camp Sunshine. How exciting -- that's good stuff.
Fishing Rodeo
My sweet friend, Allen
2. Phase 10 is just as much fun when there are 30 people playing as when there are just 4 people playing.
3. Three tiny kittens were born here last night. Not a one of them has a tail.


4. King Cake is fun. And tasty. And floods my heart with great memories.
5. I like lazy days and slow mornings. I definitely need more of them in my life.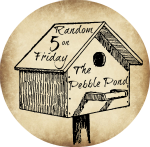 I'm linking up with my friend Miranda over at
The Pebble Pond
. Be sure to visit and be inspired by some other random thoughts today.
Pin It Now!