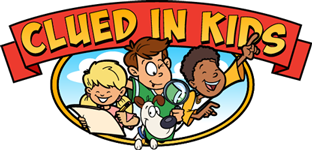 I love a puzzle. I've always enjoyed word searches and finding hidden pictures. I like to search through clues and figure stuff out. I especially love a good treasure hunt. And I don't think it's ever too early to celebrate the holidays. How about you? Our Children's Worship theme for the next few weeks is all about Christmas. Yes, I know it's only October, and Thanksgiving is yet to arrive, but we're jumping heartfirst into Christmas as we prepare for the arrival of JESUS and what better way to introduce a new theme than a treasure hunt?
Clued in Kids
Treasure Hunts
offer fun for all ages. We had such fun using both the
Thanksgiving Printable Treasure Hunt
($5.99) and the
Christmas Treasure Hunt Gift in a Greeting Card
($9.95) with children and middle schoolers at church that they are all asking when we get to do the next one.
I could tell from the moment this cute treasure box arrived in my mailbox that the kids were going to enjoy this activity. How could they not enjoy it? Presentation is everything and the treasure chest envelope was super-fun. Can't you just imagine getting one of these addressed to you? How fun is this? Suitable for children ages 4 and up and written so that it is easily enjoyed by up to 10 children, I was excited to get started with the
Christmas Treasure Hunt Gift in a Greeting Card
. Since I knew I'd be using it with a small group of energetic children, I laminated each clue card for extra durability.
This is absolutely the easiest activity to set up. The bottom of each of the 12 clue cards tells you exactly where to place them so that your hunters can find them. It's really super-simple as all of the work is done for you. It took less than 10 minutes to set up this special hunt for the children, and the Middle Schoolers were thrilled to get in on the action by setting up the clues for me. Because we were doing the hunt in a group setting at church and not at home, there was a little bit of improvisation to make, but it worked. My 6th, 7th, and 8th graders were quick to read the clue and figure out the best place inside the church to hide each one so that the children could figure out where to look.
The first clue
They LOVED it -- and I loved watching children of all ages work together as a team. It was tons of fun watching the older children read clues to the younger children and help them discover answers for themselves. I was so very proud of them all for making sure that everyone was included and got a turn "leading" the group to a clue.
older and younger working together -- warms my heart
On the hunt together
It was easy to tweak the clues from a home setting to a church setting. The children knew that toothpaste should be in the bathroom (they just had to figure out which bathroom we'd hidden the next clue in) and they knew that babies wear pajamas a lot (which sent them to the toddler room to look in the baby doll's bed for that clue). They sang Christmas carols to the ladies in the nursery and gave a big belly laugh right outside the back door. We placed clues from one end of the church to the other so the children were constantly going from side to side. It was an exercise in being quiet while roaming through the halls remembering that the adults were in the Sanctuary.
Caroling for our "neighbors"

Truly a great time was had by all -- and no one complained about our giggles in the hallway. The final clue led the children to a "tree" by the door and their prize awaited them there. Miniature nativity puzzles to color and take home brought our lesson full-circle as we remembered that JESUS is our true TREASURE. This is definitely a night that won't soon be forgotten.
Coloring the Prize
When the Middle Schoolers helped me place all of the
Christmas Treasure Hunt
clues for the children, they asked when they would get to do a treasure hunt of their own. Lucky for them, I received the
Thanksgiving Printable Treasure Hunt
-- a downloadable PDF for ages 4 and up. The set up for it was just as easy for the
Thanksgiving Treasure Hunt
as had been for the
Christmas Treasure Hunt
. I simply printed the files, cut the clues apart, and hid away. Used in conjunction with our annual Pumpkin Smash, we talked about being thankful in ALL things at ALL times.
Filled with historical facts, math problems that direct you to your next clue, and jokes to help you decipher clues, the
Thanksgiving Treasure Hunt
was a hit. Who says middle schoolers are too cool for fun and games? They even enjoyed gobbling like the turkeys they are as they were reminded that the key to a great Thanksgiving isn't just the turkey and the trimmings, but that it all comes back to JESUS.
We had a great time sharing laughs and running like crazy to the next clues. All of the kids and students are still talking about our big treasure hunts and can't wait until we do another one. I'd call that SUCCESS.
For further information, you can view this quick video that explains how
Clued In Kids
works and check out the Social Media links below:
Twitter
Facebook
Pinterest
Join the fun and get "
Clued In
" today. There are hunts for all occasions, sports, holidays, and memory-building. Children learn as they play and exercise their brains as they laugh. A 10-minute set up for an hour or more of focused treasure? This is a definite YES. What could be better than that? Your children will thank you.


Pin It Now!