There are 6 people in my family and only 5 live in my house. I have bought at least 10 hairbrushes and there is never one (no, not ONE) in the bathroom when I get ready to do my hair. Ever.
Same thing with my deodorant. How does that stuff always disappear from MY bathroom cabinet?
After spending the weekend away with dear lifetime friends, I feel refreshed. There's no place like home and I'm glad to be back among my family, but it sure was nice to spend a few days with my girls. We didn't do much of anything -- eat, lay out by the pool, shop, and talk -- but it was good for the soul.
Sometimes waffles really are manna from heaven.
I love homeschooling. I really do. Now, I must get to planning this year.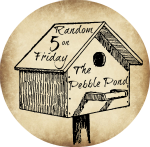 I'm linking up with my friend Miranda over at
The Pebble Pond
. Be sure to visit and be inspired by some other random thoughts today.
Pin It Now!