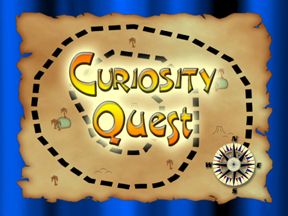 My kids are fascinated by science and history documentaries. They are curious. They want to know how things are made, how myths are debunked, and just how dirty jobs can be. They CHOOSE these shows over other things -- like sleep! It never fails that I'll be discussing something in science or history with them and they'll say
"Oh, yeah! I know about this, Mom. I watched a show about this

last night (or last week)

and it taught me all about this."
With that said, I KNEW they'd enjoy the
Curiosity Quest
DVD episodes and I couldn't wait to have my 12-and 14-year-olds tucking away even more knowledge through such a fun avenue.
Fast-paced and energetic, show host Joel Greene takes families on a quest to fuel their curiosity and helps answer questions in an adventurous setting. Fielding letters from children that tell what they are curious about, Greene sets out to answer all of their questions and teach more than you ever imagined. He'll go anywhere at anytime to explore what kids are interested in. Be it Wisconsin cranberry farms in pelting snow or swimming with penguins in Monterrey Bay, Joel Greene is not afraid to tackle any subject of curiosity.
Featuring 30-minute segments on given topics, the DVDs offer educational fun for kids of all ages (specifically geared for ages 7 - 14, but I enjoyed them just as much as my children did). We've spent the last few weeks studying Sea Turtle Rescue, Penguins, and Salmon on the
DVD Combo Pack -- Swimmers of the Sea
along with Mushrooms, Cranberries, and Orange Packing on the
DVD Combo Pack -- Produce
. You can get either of these DVD Combo Packs for only
$24.95
.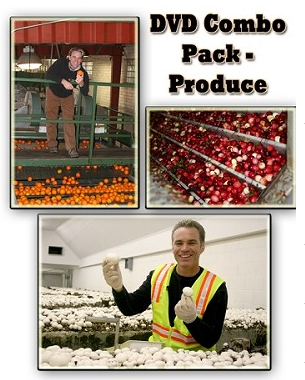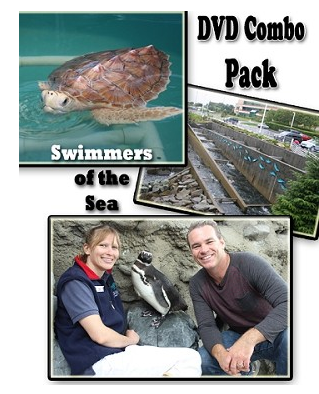 Throughout the videos, kids are asked specific questions pertaining to the subject being discussed. It's fun to hear the different guesses made on-camera by other children and adults in a "taking it to the streets" manner before the question is answered in full detail for real. For example, on the Sea Turtles quest, kids were asked "What do Sea Turtles eat?" Funny answers were "other fish," "seaweed," and "sea food." How interesting to find out that they actually eat their veggies stuffed with cat food pellets as extra protein or squid stuffed with shrimp for special treats.
Hmmmm . . .yum?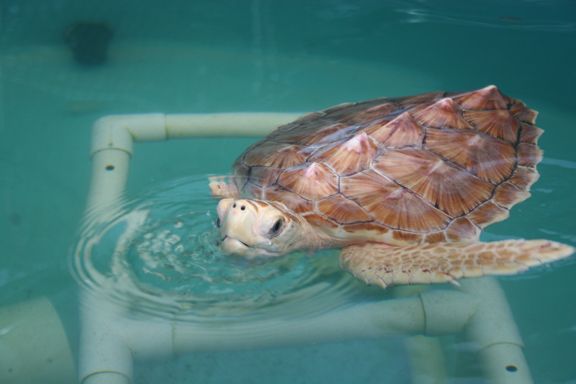 Fun Facts
are sprinkled throughout each video that share short fun and interesting facts with you and then explain them in detail. Did YOU know that sea turtles have soft noses and they can "cry"? I didn't.
I am fascinated with the spawning of the salmon in Alaska. Did YOU know that most of America's salmon comes from Alaska? I had no idea -- and I didn't know that salmon are almost as picky as I am about the type of bed they choose. Neat, huh?
Can you guess how you grow a mushroom? The first step in making mushrooms is HAY. Who would have guessed that? And it's not an overnight process either. I had no idea how long it actually takes to grow "edible fungus" OR that you can determine how big (or small) a mushroom will be.
And wouldn't you just love to smell the orange blossoms on the trees in California? I'm so thankful that Christopher Columbus shared oranges with the world. Who knew that they are harvested was in the middle of winter and can be injured just like us? These are just a few of the fun facts we've learned watching our
Curiosity Quest
DVDs.
Cranberries are heart healthy.
New vocabulary words are introduced throughout the videos and definitions pop up on the screen to make sure that you not only
hear
the words, but that you also
see
them.. What a great way to help children
learn
new words and concepts and
understand
how to use them correctly. Floating cranberries was the perfect setting to learn about the word
buoyant
and it's interesting to see the different types of
harvesting
farmers do.
With over 100
Curiosity Quest
topics to choose from, there is definitely a DVD video to spark the interest of everyone in your family --
including you
. I promise you'll find something of interest and from the very first viewing you'll be hooked. I'd love to take the
Behind the Scenes
tour offered on DVD and the
Bread Baking DVD
is definitely calling my name.
You can find even more cool stuff to quench your family's curiosity by checking out
Curiosity Quest
in the following places:
FaceBook:
https://www.facebook.com/CuriosityQuest
Twitter:
https://twitter.com/curiosityquest
YouTube:
https://www.youtube.com/channel/UCijkbeDwySOsg-pZjOeWsg
g
I'm loving the educational potential found in ALL of these DVDs. Which one do you plan for your family to watch first? We can't wait to explore the
Boy Scouts DVD
for my new Eagle Scout and the
Horseback Riding DVD
for my horse loving Princess. There's even an episode that teaches all about
making drums
that my MainMost will enjoy. There is truly something for every curious person in your world. Enjoy.


Pin It Now!