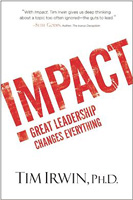 IMPACT: Great Leadership Changes Everything
Think about those whom you consider to be leaders. What are some of the character traits that come to mind? What makes them different than those who simply follow? Who are they at their core? Can you identify those leaders around you that are good at what they do? How about the ones that are not good at what they do? How does great leadership impact your life? Your family's life?
Think about all the places you find yourself involved in family, in church, in school, in homeschool groups, in Scouts, in civic organizations, and even on the sidelines as a soccer mom, baseball mom, dance mom, robotics mom, or football mom.
We are all leaders of some kind. We lead at home, at church, at work, at school.
We can be good leaders, or we can be poor leaders, but we ARE leaders. We are either building people up or tearing them down.
In his book,
Impact: Great Leadership Changes Everything
,
Dr. Tim Erwin discusses how to go from being a good leader to a GREAT leader. Through his hands-on assessments, he lays out a plan to help you reach your full potential in all areas of leadership in your life.
Through the pages of his book,
y
ou'll
examine the elements that support or undermine your effectiveness, and learn processes to develop leadership competencies and characteristics. This has been quite helpful for me as I work to be a better wife, a better mom, a better friend, and a better minister.
I am reminded in Chapter 14
Who's Watching Your Back?
to guard my marriage and my family, to seek accountability, to use Social Media wisely, and to utilize the pause button when faced with making important decisions.
An organizational psychologist and management consultant, Dr. Irwin has worked with thousands of leaders in well-known global companies for more than 25 years. He knows that most leaders work for recognition and advancement and they want more challenge and responsibility. He has also found it to be true that most of us want to make a positive difference through our work and to have our lives count for something more than simply making a living. We want to make an impact -- at home, at work, at church, in life.
I know that is true for me. My heart's desire is to leave a lasting legacy of hope for those that I come in contact with and to help people realize that every day has the potential to be the best day of their lives. I want my life to be a life filled with JESUS and my prayer is that HE will be seen through me. I want my children to be effective leaders as well, and I pray that we are preparing them for this through our homeschool environment.
This is a book on leadership, but it's really more about the
IMPACT
we have on those around us. The goal of the book is to teach you how to m
easure and enhance your potential for living a life of impact. Through chapter evaluations that help you Go Deeper into your core beliefs and offer insight into how you think and behave, this 201-page book will help you realize your full potential and learn to make a positive IMPACT with your life as you work on leaving a true legacy of hope. There's even an
online assessment
you can take which I highly recommend. It took me about 10 minutes to answer the 45 questions presented and the immediate feedback report has helped me to set some goals in improving my leadership style. I am actively working on ways to strengthen my core values through the simple action plan provided and I am committing to change. Continual evaluation is a good thing for each of us as we seek to improve.
Impact: Great Leadership Changes Everything
is not a book that you read and relegate to your bookshelf. It's a book that you read, re-read, and read again. It's the kind of book that will change your life -- and the lives of those around you. I plan to continue reading it for myself and to use it with my children as they prepare for college and work.
Dr. Tim Irwin
, the author of the
New York Times
best-selling book
Impact: Great Leadership Changes Everything
, has been a confidante to thousands of global leaders. He is a favorite guest of Hugh Hewitt and is being featured on a number of Christian radio programs. Irwin sees one central issue anytime a leader "derails"—he believes they have a defect in their "core", which Irwin says goes beyond the overused term "character". His new book,
Impact
, addresses this and gives actionable ways leaders can protect themselves, and better serve their organizations—especially crucial for those of us who serve in ministry and are walking a Christian walk.
Stay Connected and make a great

IMPACT

:
Twitter:
https://twitter.com/drtimirwin
#Impact
I have the opportunity to giveaway one copy of
Impact: Great Leadership Changes Everything
to one of you, my friends. If you would like to own a copy of this book for yourself as you strive to make a positive impact on the world around you simply leave me a comment below sharing your favorite leadership tip with me. (For extra chances to win, please like this page on FB and/or follow my blog through GFC or Linky Followers. Leave a separate comment that you did those for additional entries into the giveaway.) I'll be choosing one winner on Friday, May 2, 2014.
"Disclosure (in accordance with the FTC's 16 CFR, Part 255: "Guides Concerning the Use of Endorsements and Testimonials in Advertising): Many thanks to Propeller Consulting, LLC for providing this prize for the giveaway. Choice of winners and opinions are 100% my own and NOT influenced by monetary compensation. I did receive a sample of the product in exchange for this review and post.
Only one entrant per mailing address, per giveaway. If you have won the same prize on another blog, you are not eligible to win it again. Winner is subject to eligibility verification.
Pin It Now!