A list maker by nature -- that's me in a nutshell. I have even gone so far as to add things to my list just so I can mark them off. Weird? Maybe
just a little
, but effective nonetheless. True story: I USED to be super organized. We still laugh about the time right before my Senior (blessing #2) was born when I had 32 casseroles in the freezer and had my MainMost vacuum out
the attic
. Everything had a perfect spot and NOTHING was out of place. Then she arrived 6 1/2 weeks early and my organized life hit a roadblock. Not long after that, I blinked and our family of four was a family of six. There were four children in our family. Whew! Bye bye "most organized mom around" status, hello chaos.
During a season of life where I find very little motivation to accomplish even the necessary daily routine
(anyone else in this season?)
, I'm finding
Motivated Moms
and the
Motivated Moms iOS App
(with full year server access)
to be a lifesaver. Synced between my iPhone and my iPad, it is easier now than ever to actually get something done around here.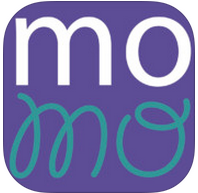 The MoMo app helps motivate me to accomplish small tasks. I like the satisfaction of checking things off -- I am more performance driven than I realized. The tasks are designed in such a way to keep clutter at a minimum throughout your home once you've gotten a grip on the chaos.
I spent our two-week Christmas break cleaning and organizing and then stopped -- because life happens and we stay on the move. I have SO much that needs to be done and no time to get it all accomplished. Or at least that's the excuse I've been allowing myself. Because I am a list maker at heart and find success in marking off a task,
Motivated Moms
is helping me to
make every day count.
Through small, bite-sized tasks lists, I am remembering what it's like to find fulfillment in organization. I'm finding TIME to clean, organize, refresh.
And the best part of it all? You can pick up and start whenever you are ready. It's okay if it's March and you have just decided to begin working on that New Year's Resolution from December 31. The MoMo app is available to get you on the road to less stress right now -- it's never too late to begin because today's tasks don't rely on the completion of yesterday's chores.
Here's a first-hand look at how my morning starts. This screenshot shows you just what I'm looking at today. The ability to color-code tasks makes it easy for me to see quickly who needs to do what before we begin school. The
blue highlights
my son's job, the
lime green highlights
something for me personally, and the
purple highlights
my Princess' main task.
For the most part, other chores listed are the responsibility of the entire family -- not relegated to just one person. Each person in the family is required to take their dishes to the sink, rinse them off, and load them into the dishwasher. Once it is full, either my Senior or I will drop the dishwashing pellet in and turn it on. We have a field trip tomorrow to a theatre out of town, so each person will lay out their clothes before going to bed tonight -- that will make our morning go MUCH SMOOTHER. I'll check off "Prepare Tomorrow's Clothes" once I see their outfits and give final approval.
Completely customizable, the MoMo app can be perfectly suited to fit MY individual needs/wants/desires. I can edit tasks to remove them if they aren't something that fits my season of life (for example, I took "Clip Children's Fingernails" right off of my list -- my "baby is almost 13 and she gives ME manicures) -- and I can add things that I need to be reminded of (preparing my Bible study lesson for Wednesday night at church). I made sure to include the Quiet Time and Bible Reading in my screenshot above so that you could see just how detailed the tasks lists are. The accountability of checking off that I have spent time alone with GOD just helps my days go smoother. I AM reading through the Bible this year, but I'm not following this exact plan. I could easily go in and change it to match the plan I am using, but it's baby steps, y'all. Just seeing the scripture laid out for me reminds me to take time to soak in some JESUS. I check off this task each night after I have read my chapters.
Motivated Moms
is teaching me how to get stuff done. Through Daily Tasks, Weekly Tasks, Monthly Tasks, and Yearly Tasks, I am rekindling my love of organization -- and that goes right along with my word for this year. GOD laid it on my heart to seek ORDER in my everyday, and the
Motivated Moms iOS App
helps me to do just that. It even gives me permission to spend time on ME -- through days of pampering and special crafts. (And I
HAVE
to obey so I can check them off my list, right? That's a WIN/WIN for me.)
Available for
only $7.99 a year
(I know, right? That's an AMAZING price.)
you can find yourself on the road to clean by downloading the app today. If you want to try it out before committing to the full year, you can download a two-month access for $1.99. If you prefer a paper and pen method of organization, you can purchase one of the
Motivated Moms Ebooks
. With 16 different pdfs to choose from at only $8 each, there's sure to be one to help you take every moment captive and make every day count.
Join me in making this year the best ever.
For even more information about Motivated Moms, please visit these Social Media links:
https://www.facebook.com/motivated.moms
https://twitter.com/momoplanner
Because
This Day Has Great Potential . . .

Pin It Now!