I don't know if you are anything at all like me, but I enjoy writing in cursive. I always have. I guess it goes back to those grade-school days when our teacher would write a passage on the chalkboard and we would copy it onto that thin paper with the red dashed centers. Do you remember that paper? I so enjoyed making the curves and loops and connecting all of the letters together. Now, I must admit that my children do not share my love of cursive writing. As a matter of fact, my Boy Scout (9th grade) and my Princess (7th grade) simply do not like it at all. They recently complained that they couldn't read a letter we received in the mail because it was written in cursive -- and I realized that I have not given them enough opportunity to practice reading and writing in cursive. I need to make sure that they are working on copywork daily and improving their skills. Although several of our friends do not teach cursive writing at all, I wanted to make sure that my children do not lose this skill.
Classical Conversations
has come to my rescue.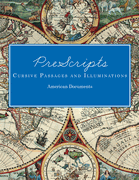 We have recently had the opportunity to use
Classical Conversations'
PreScripts Cursive Passages and Illuminations
($12.99)
and it is just perfect for my family. Applicable to all three of my students at Long Leaf Academy,
Cursive Passages and Illuminations
is a 146-page, softcover spiral-bound workbook filled with passages from famous American documents and speeches that are to be copied by students age 9 - 12th Grade. These documents offer longer passages for students to not only "copy", but to write beautifully, as well. Each practice passage can also become a work of art through the art form of illumination. Following the tenets of classical education, students are encouraged to practice the skill of writing in cursive while studying noteworthy works from American history and are expected to utilize the practice of illumination on each of their completed works.
So how have we been using
Cursive Passages and Illuminations
in our home? This workbook can be used as a consumable resource or a non-consumable resource depending on your family. I have chosen to use it as a non-consumable resource. It has been the perfect tool to train both the Princess and the Boy Scout to read AND write in cursive. Because the passages are from literary pieces that they are familiar with, both of them have found it easier to read them aloud. We have used the
Cursive Passages and Illuminations
three days a week for the summer months and plan to use it four days a week when we begin our new school year in August. I have them read through the assigned passage aloud, trace over it with their pencil, and then copy it into their writing notebook. This copying usually takes them about 20 minutes -- longer if they do not do their very best work and must re-do it. Once they have completed the copywork passage, I have them work on the accompanying art work. As you can imagine, my Princess enjoys this portion of the assignment the most.
Students can complete the entire workbook in a school year if they do one page a day. The passages to be copied range in length from 2 - 5 sentences and contain a mixture of small and capital letters. You can
see a sample from the book
and see exactly what your students will be writing as they strive to seek
"truth, beauty, and goodness"
through the pages of
Cursive Passages and Illuminations
.
My Artist is a Senior this year and she both reads and writes cursive with ease but she told me recently that she doesn't think her handwriting is very pretty. She is using the
Cursive Passages and Illuminations
as practice in an effort to "beautify" her handwriting. It is an added bonus that she loves both history and art and she is enjoying the way that both are incorporated in PreScripts. She has a new appreciation for the art of cursive writing and that writing and drawing are forms for worship.
I LOVE the fact that all of the
Classical Conversations
products and services are designed to help you KNOW GOD and make HIM KNOWN. I Love, Love, Love that this is their mission and I desire to see my family grow closer to GOD in ALL that we undertake. The PreScripts series for cursive writing integrates history and art in each book. From an introduction in
Cursive Letters and Coloring
, a study of Proverbs and James in
Cursive Words and Drawing
, and even more writing practice in
Cursive Sentences and Art Lessons
, students will gain confidence and skill through the pages of each of these books. I think that your family will be as blessed to be a part of the
Classical Conversations
family as we have been.
Never lose an opportunity of seeing anything that is beautiful; for beauty is God's handwriting - a wayside sacrament. Welcome it in every fair face, in every fair sky, in every fair flower, and thank God for it as a cup of blessing. ~Ralph Waldo Emerson


Pin It Now!