Cold, dreary weather had me seeking comfort yesterday afternoon. With my cozy socks and a warm cup of Cafe Caramel, I settled in with GOD's WORD, my 2013 Journal, and my iPad (used as a reference for all things JOY found in my BIBLE). A sweet cat decided to join me as my children played quietly nearby.
What started out as a miserable day ended quite beautifully as I snuggled up to my FATHER who loves me unconditionally. I pray 2013 finds you seeking JOY and finding FAITH each and every day. May you be ever blessed.
Because
This Year Has Great Potential
. . .
Would you like to see some more "Words of the Year" from my friends? Click on the button below. :)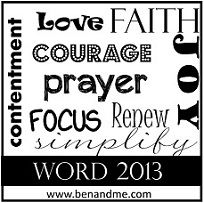 Pin It Now!