Who doesn't love a circus?  I have some great memories of watching the elephants push the big top up with my sweet grandfather by my side.  I love the smell of popcorn and cotton candy and I love hearing the roar of the lions as they jump through hoops.  I enjoy seeing a hundred brightly colored clowns come out of a tiny car and watching trapeze artists fly through the air.  What great fun a circus brings to town!
We haven't been to the circus in many years, but my children LOVE animals
(we have way too many dogs and one lonely cat!)
and our family LOVES to play games.  Combine the best of both and you get a great new game called
Flea Circus
by
R & R Games
.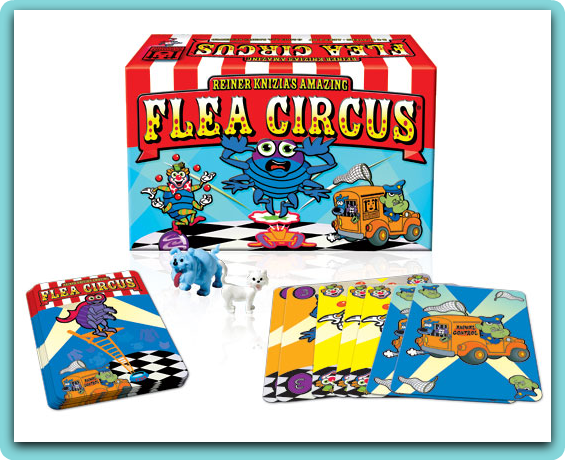 Flea Circus
is a card game with a twist and has very quickly become a family favorite.  Competing together in a circus atmosphere, players are working to collect rubber dogs and cats that signify points.  When all of the dogs and cats have been claimed, the winner is declared.  The player with the most points (dogs and cats) is the Big Top winner!
Fun and educational, 
Flea Circus
offers opportunities to practice math
(You have to keep up with your points.  Dogs are worth 2 points and Cats are worth 1 point.)
and think strategically
(At any moment in the game, a player can throw down an Animal Control card and force others to give up some of their points.)
.
Although the box says the game is for 2 - 6 players ages 6 and up, we've played it with more than 6 players successfully. It is VERY family friendly and that's a plus for me.  When my Senior Daughter brought her "friend of the opposite sex" over to meet the family, we quickly pulled him to the table for a rousing game of
Flea Circus
.  He smiled and laughed and enjoyed our crazy company -- and passed the family test!
The youngest daughter says
Flea Circus
is her very favorite game ever because it's AWESOME!  She wants us to give it to all of her friends for Christmas!
Flea Circus
retails for $15.95 and you can purchase it 
HERE
.  As an extra bonus, you can use the coupon code CREW20 and receive 20% off of ANY purchase from the website.  This very generous offer is good until the end of the year which makes it perfect to add Flea Circus or any of the other cool games under your Christmas Tree.

~~I was given the opportunity to use and review 
Flea Circus
by
R & R Games
as a member of the 
TOS Homeschool Crew
.  The opinions stated are mine and mine alone.  I was not paid to share my thoughts and feelings with you.  I encourage you to check out the
Crew Review
and see what other members of the TOS Homeschool Crew thought of
Flea Circus
and its sister game
Pig Pile
HERE
.~~
Pin It Now!